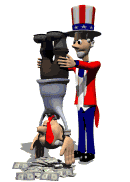 Democrats in the house are now 'concerned' that the $150 billion cost of the Iraq War will be passed on to future generations. Well, that's one way to look at it...

The Associated Press wrote today that:


Three senior House Democrats proposed an income tax surcharge Tuesday to finance the approximately $150 billion annual cost of operations in Iraq, saying it is unfair to pass the cost of the war on to future generations.

The plan, unveiled by Reps. David Obey, D-Wis., John Murtha, D-Pa., and Jim McGovern, D-Mass., would require low- and middle-income taxpayers to add 2 percent to their tax bill. Wealthier people would add a 12 to 15 percent surcharge, Obey said.


Since when did "pass[ing] the cost of [anything]
on to future generations" stop anybody in Congress, with the exception of a handful of exemplary leaders, such as Ron Paul? We're certainly passing the cost of Social Security, Medicare, and Medicaid on to future generations.

But that's not all. The tax surcharge these congress people are proposing is another experiment in the socialist wealth collection shell game. If you don't make much money, you only pay 2%, but that's okay that we're suckering you poor people, because guess what? The rich SOBs have to pay EVEN MORE!!!

Despite how one may feel about the way we got into Iraq, one of the Constitutional requirements of the federal government is to provide for a defense of the country. Until these loons in the Senate and the House can figure out a way to get us out of this mess, I think there are better ways to pay for the war than a snide tax increase.

How about cutting spending in the myriad areas that they have no constitutional authority over?